PASTEURISATION MACHINE
The company occupies with flow and tunnel pasteurization
Flow pasteuriser
The bottles are transported by special conveyor through isolated tunnel where are showered with hot water in three zones (preheating zone, pasteurization zone and cooling zone). Under the conveyor are placed vessels with water. The heat recuperation comes about during the preheating and cooling phase. The pasteuriser is heated by steam or electricity. The tunnel conveyor speed is adjustable, temperature of the pasteurization process is held automatically. The whole machine is made from stainless steel.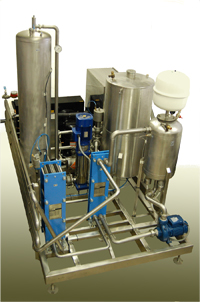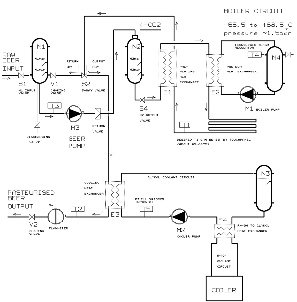 Tunnel pasteuriser
Raw beer from input tank is pumped by high-pressure pump into the saturator tank. The saturator tank is filled by carbon dioxide (CO2) and maintained at constant pressure 7-10 bar. Carbonisation level can be adjusted by the pressure. The beer is driven by this pressure from the saturator tank into recovery heat exchanger, where pre-heated. Then into pasteurisation exchanger and holding exchanger, where pasteurization takes place and then into second part of the recovery exchanger. Then beer goes into the cooling unit, where cooled down to desired temperature for bottling process.
We recommend to place a storage tank of capacity 2000 l or more between the pasteurisator and the bottling line. This storage tank serves for accumulation in case shortterm outages and also to reduce pressure from mentioned 7-10 bars to about 3-4 bars required for bottling. Pressure 7-10 bar across the pasteurisation unit is needed to prevent the leaks of CO2 from beer, prevent creating bubbles and for good function of plate heat exchangers.
The pasteuriser is heated by steam or electricity. Steam temperature should be 120-130°C, pressure 2-4 bar. The condensed water is returned back to steam generator.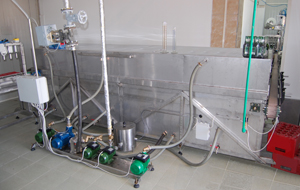 back
© 2010 TERMOREG, firma pro automatizaci - Všechna práva vyhrazena - All rights reserved