The sensor SILOMAX is intended for recognition limiting level of loose material in chambers, possibly in tubular roads. Output information, i.e. level is/isn't achieved can be used for alarm indication, blocking, possibly as input to central system.


Measuring principle:

SILOMAX is level switch. If the level exceeds (or falls bellow) a limit value, its relay contact switches. The level of loose material is investigated with rotary measuring vane. Size of the vane can be adjusted by character of the measured material.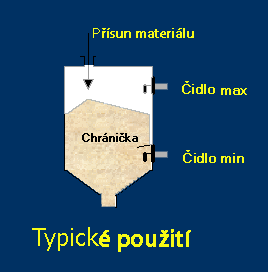 DURING THE MEASUREMENT OF MINIMUM LEVELS IS NECESSARY TO LOCATE A PROTECTIVE ROOF ABOVE MEASURING VANE OR USE METER WITH MODIFIED VANE.
Implementation:
Sensor is fixed into the measuring opening by screwing (thread G5/4"). Through reduction it is possible to fix the sensor into the flange DN100. Inside the sensor is small motor which turns the shaft with measuring vane; sensor's case is hermetically closed. The shaft goes through the thread part and through the bearing and packing gufero. Measuring vane exists in different variants and is exchangeable. All of the sensors are made from stainless steel.
ALL OF THE SILOMAX METERS HAVE CERTIFICATE FROM PHYSICAL-TECHNOLOGICAL INSTITUTION IN OSTRAVA RADVANICE FOR USE IN DUSTY ENVIRONMENT WITH EXPLOSION DANGER.
Silomax-PT is special version of sensors SILOMAX with extended shaft for vertical assembly into the roof of chamber.

In case of mounting in places, where changes of direct solar radiation and rain come up very often, we provide the sensor SILOMAX-PT with a special roof.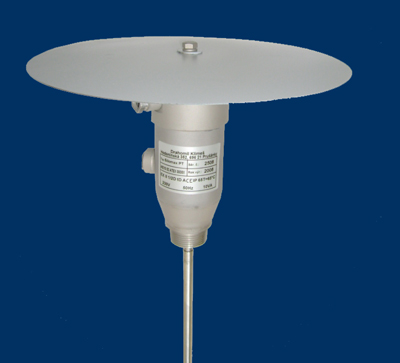 Other possible variants:
with the cooling extender (for temperature of metering media up to +200 °C)
with flexible funicular extension of measuring vane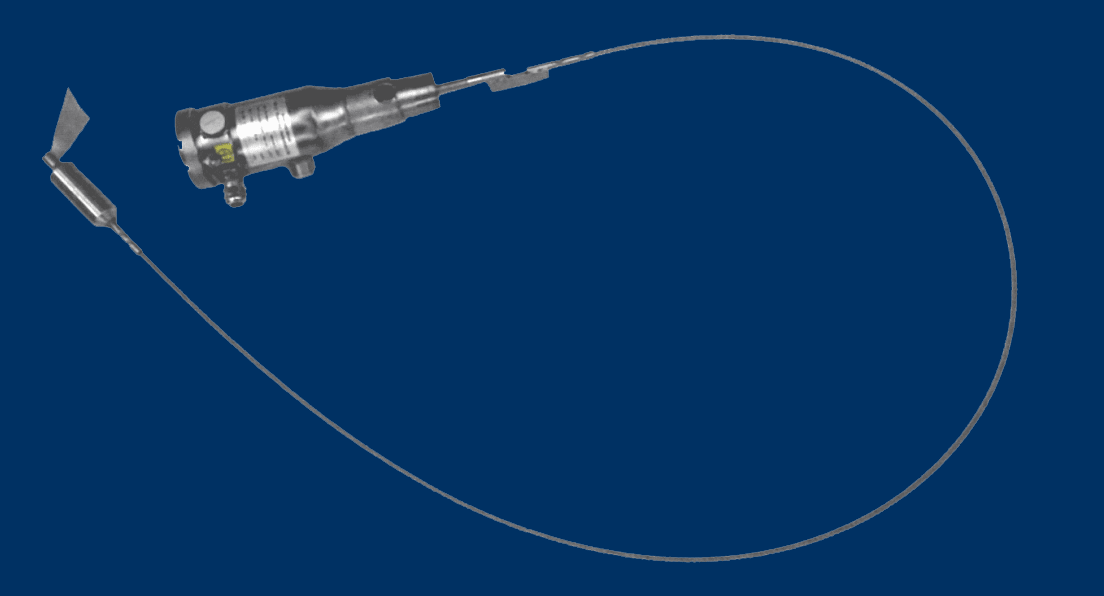 Mechanical fixation:

Meter is placed into the measuring opening by screwing into the mouthpiece with thread G5/4 (mouthpiece longitude max.23mm).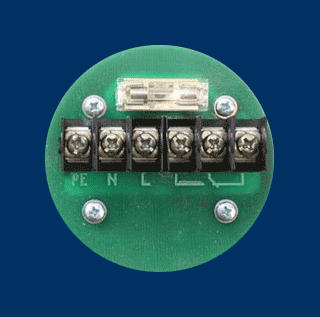 Electric connection:
Power supply of meter and output signal are brought in the distribution frame under screw-on cover. The clips PE+N+L represent power supply 230V/50Hz. Other three clips represent break-make contact of output relay.

Standard setting of sensors is with positive logic,user can change the setting by switch - see detailed instruction. It is possible to set: mesh moment of the vane for material scanning, output logic (0 or 1), it is possible to set delayed ON/OFF of output relay at the small bins, which permits to place only one meter at the small bins.




Technical parameters:


| | |
| --- | --- |
| Power voltage | 230V / 50Hz (it is possible other voltage too) |
| Input | max. 10VA |
| Coverage | IP 65 |
| Grade | I |
| Output | Relay contact, max. loading 250 V AC/0,2A |
| Max. enviroment temperature | + 66°C |
| Max. medium temperature | + 80°C |
| With the cooling extender | up to + 200°C |
Documentation
ATEX certificate
Declaration of conformity
For view of documentation is necessary installation of

click on the logo and download it in your PC
back
© 2010 TERMOREG, firma pro automatizaci - Všechna práva vyhrazena - All rights reserved