SILOTER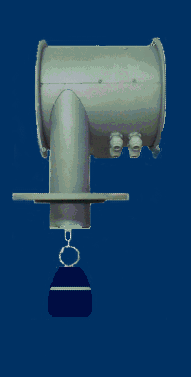 Level meter SlLOTER serves for connected level measurement, for material amount metering in silos and tanks. The measurement medium can be both liquid and loose materials. SILOTER can work in a very aggressive and dusty environment too, has the wide use from food industry to heavy chemistry. The measured medium can be both liquid and loose materials - e.g. cement, calcite, fly-ash, grain etc. The basic variants are SILOTER-C with metering range up to 50m and pressure up to 3 bars for pressure chambers and SILOTER-MB portable battery-operated device with metering up to do 50m. The part of this portable version is display for measured values representation too.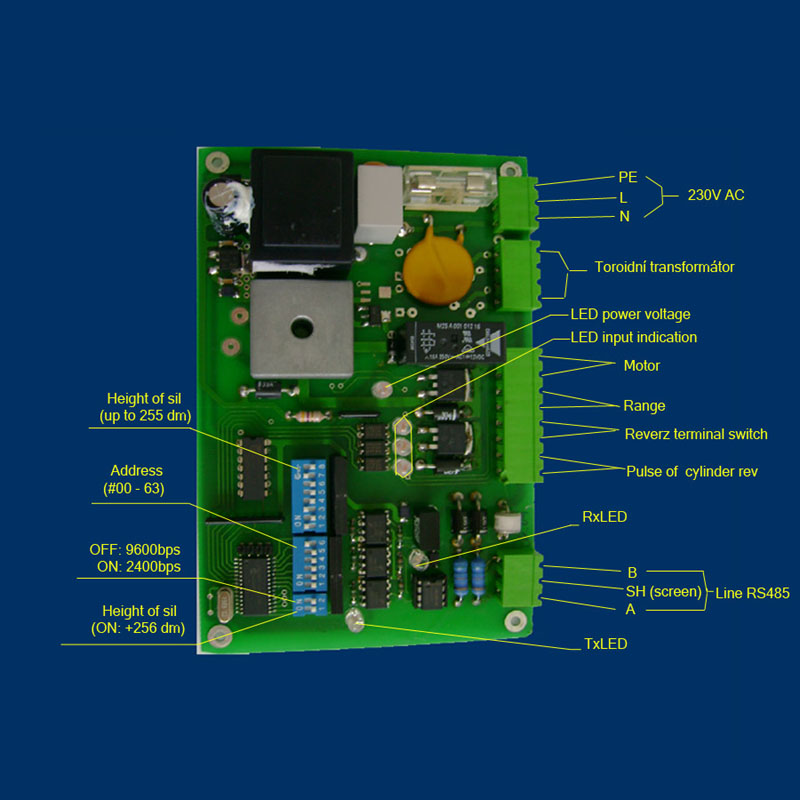 Measuring principle:

A sensing weight, hanged on a stainless rope, is lowered into the silo. When the sensing weight reaches the surface, direction is reversed and sensing weight is returned back to the initial position. Measured distance is stored in memory and can be sent to the control system by the RS-485 digital interface (in ASCII protocol). Next possibility is to send it as pulses for a counter. Integration for type SILOTER pulse is here.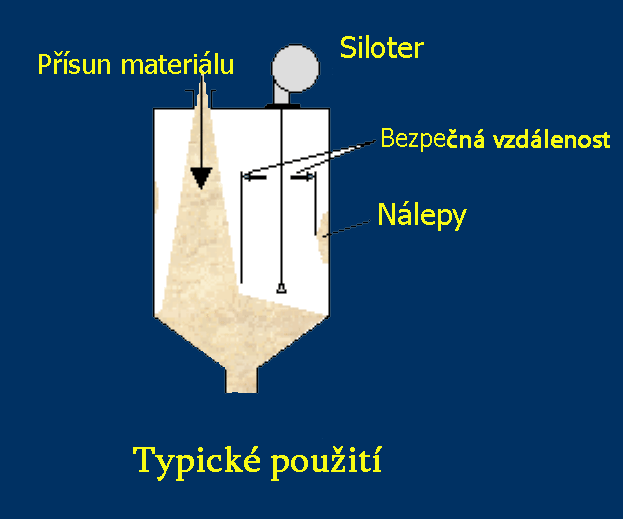 Inplementation:

The Siloter-C meter is placed in stainless steel cylindrical case. The covers are sealed by clamp joints for perfect stuffing and simple one screw mounting and dismantling. The case is internally divided into two parts. One part is for a drum with the sensing rope and the second part is for electric drive, control electronic board and connecting terminals. The Siloter is mounted on the silo roof by the DN100 PN6 flange. The sensing probe can be made in different forms according to application (high temperature, density, hygienic demand on measured medium etc.)

ALL METER MONITORS ARE MADE FOR LOOSE MATTERS. THEY HAVE CERTIFICATE FROM PHYSICAL-TECHNOLOGICAL INSTITUTION IN OSTRAVA RADVANICE FOR USING IN POTENTIALLY EXPLOSIVE ATMOSPHERE (EC directive 94/9/EC).
To the level meter is available cooling stainless extender for material metering with high temperature. Longitude of extension is chosen according to maximum temperature of metering matters.
Output:


for type communication 485 SILOTER: RS-485 digital interface (ASCII protocol), activation command START
for type pulse SILOTER - relay output - counting pulses in accordance with rope length rolled out to the silo. Relay output parameters - one pulse for each 0.1meter, 1s period (500ms pulse/ 500ms space), relay contact 250V AC, 1A.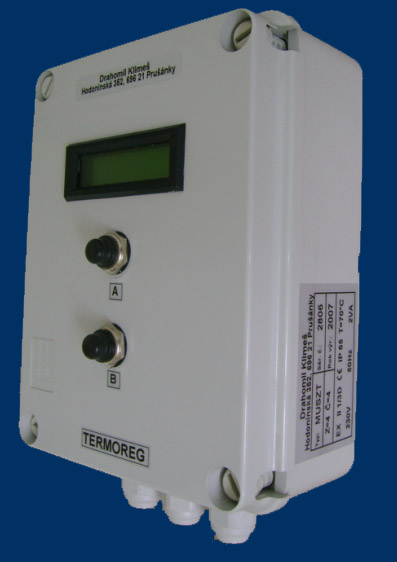 Output impulse evaluation:


SILOTER 485 - arbitrary control system with communications lines RS485
SILOTER pulse - arbitrary control system, one digital exit for start - interruption of supply, one digital input for pulsed floating signal


control processor SILOTER - Y (allows: interface up to six SILOTERs, measuring of silo content in adjustable unit of measure, alarms, connection with technological process, cyclic measurement, time balance-sheet)


standard evaluation unit SILOTER - X is simple evaluation unit with display. Maximum range of display is 99,9 m. Altitude is presented on DIP SWITCHES, counter at SILOTER - X is counting down and displays real height of surface in cm. In version 1 impulse = 10 cm is accuracy +5 cm within whole range. It is possible to utilize with using commutator of measuring places only one SILOTER - X for many chambers if the chambers have the same parameters. Display of material height, starting button - analog output 4 - 20 mA




Technical parameters:


| | |
| --- | --- |
| Power voltage | 230V / 50Hz |
| Input | 70W when measuring, 10W at rest |
| Coverage | IP 65/ 54 |
| Max. environment temperature | + 60°C |
| Max. medium temperature | + 80°C |
| With the cooling extender | up to + 200°C |
Documentation in pdf
ATEX certificate
Declaration of conformity
For view of documentation is necessary installation of

click on logo and download in your PC
back
© 2010 TERMOREG, firma pro automatizaci - Všechna práva vyhrazena - All rights reserved