System SZT serves to metering thermal stratification in corn´s chambers, seeds, feeding mixture etc. Continous monitoring of temperature capacity of cell safeguards safe and high-quality stowage. At contravention sufferable temperature stowage or gradient, is by the help of control and score system service notice to fulfilment proper interference. Set assembling from series of silo-suspenders SZT (possible longitude from 10 to 45 m) and panel MUSZT or monitoring PC.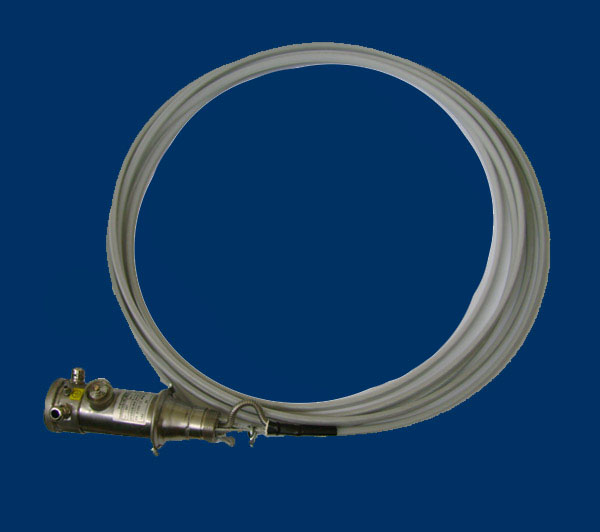 System component:

Silo-thermometer fold from silo-suspender and measuring cable. Silo-suspender is making of steel bearing cables, which is sealing in plastic. Silo-suspender is gripping to head of funicular chateaux. In head is put board with score electronics. Into the hollow of silo-suspender next to cables insert at production measuring cable, which is in existent longitudinal interval recess of thermistors. Cable is conect to board with score electronics of connector. Score electronics scan from measureng cable temperature data and transfer over communications line RS485 to the measuring switch-board MUSZT or to the monitoring PC-SYSTEM.
Measuring switch-board MUSZT:

Switch-board is equipped with control buttons and with display. Below-shone display ciclically portrayals address of single silo-suspender and portrayals temperature in single levels. On first position portrayals number of silo and on second position number of surface levels in silo at way from below to up. Last two position portalayals take temperature in C.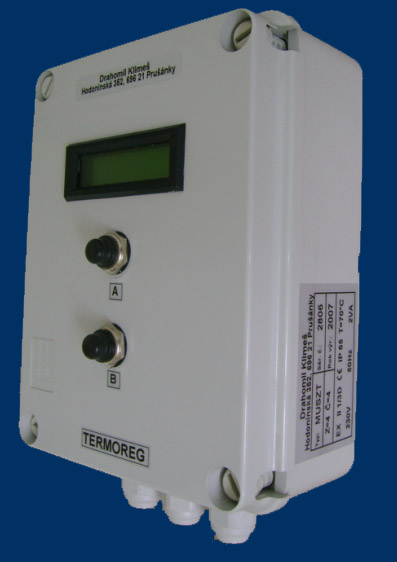 Switch-board operate at buttons A and B . By button A sanction report about overfullfilment of setting temperature limit. By button B controls speed of display cycle. If at the same time push buttons A and B and then switch on switch-board, machine fetchs up in fiddle mode of limit temperature in single chambers. Will-if find out, that happen to the overfullfilment of setting limit temperature, switch on relay ALARM and stay switch on until service acknowledge receipt warning signal whereby button A.




Connection with PC
Instead of measuring switch-board (or together with it) is possible use computer PC. Advantage of PC is display of temperature in all silos at the same time and besides is pursued archiving of all measured temperature.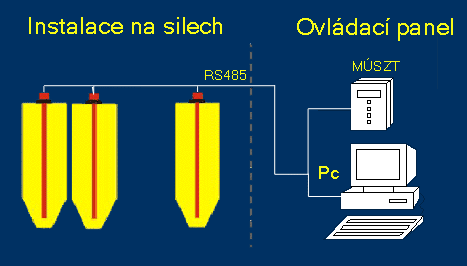 Documentation v pdf


Description of MÚSZT


ATEX certificate


Declaration of conformity



For view of documentation is necessary installation of

click on logo and download in your PC
back
© 2010 TERMOREG, firma pro automatizaci - Všechna práva vyhrazena - All rights reserved