FRUIT SORTING MACHINE
The machine sorts the food products (tangerines, kiwi fruits, oranges, cucumbers etc.) according to diameter. The machine sorts fruits into 4 groups.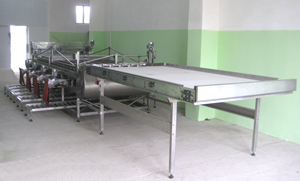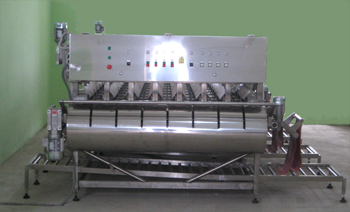 A machinist pours the sorted product into input inspection conveyor belt from its front side, removes big impurities (branches etc.) and equally distributes the fruits over the entire breadth of the conveyor. The product is moved from the conveyor into sorting mechanism proper (photo here) where is pushed by carrier parts to corresponding gap which allows falling in one from 4 output (fractional) conveyers (photo here) which are equipped with retarding wall. These output conveyers put the product into packing cases. The machinist inserts the packing cases from the side at roller tracks. The oversized fruits don't fall at the output conveyer but reach the end of the machine. (Schematic drawing here).
Setting of the sorting gaps
The machinists set the height of top grate with vanes by buttons on switchboard. The grate is raised by pair of independent mechanisms which determine gap size along whole length of the grate. Two workers perform the setting. The first one measures gap size between the vanes always on one side of the grate. The second one controls lifting mechanism by buttons. The setting of the sorting gaps can be made only if all of the conveyors and carrier parts are inactive and the conveyor is empty.
Setting of discharge outlet retarding in output conveyers
The machinist loosens a screw in retarding rubber holder and with a turn sets corresponding angle of declivity to uniform pouring into the packing case.
STORAGE SHED WITH COOLING
The shed is built from steel galvanized profiles with PUR sandwich panels sheathing. The entrance is provided by two automatic sliding gates. The shed is air-conditioned by cooling units with indirect cooling system with measuring of interior temperature and relative humidity.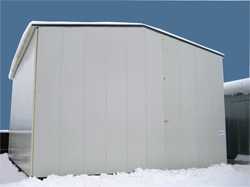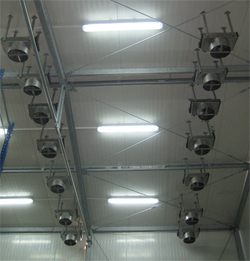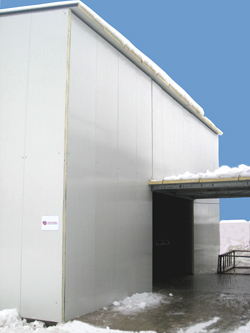 back
© 2010 TERMOREG, firma pro automatizaci - Všechna práva vyhrazena - All rights reserved