SPM

SPM is the meter for continuous monitoring of level of liquid stored in tank. Device is also applicable for measuring of boundary-line between two liquids of different consistency. It is offered for range up to 6 m. For higher range we offer meter SILOTER.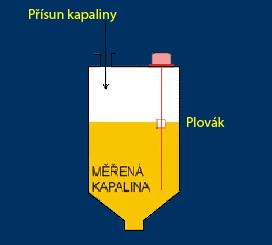 Principles:

The free floater slipped on interposer bar is mounted inside the tank. Floater is vertically wafted by rising or dropping level of liquid. Meter reads position of floater contactless by magnetic coupling. Position of floater represents the height of level of liquid in tank.
Design:

The interposer bar is a stainless steel tube. Inside the tube are placed dry-reed relays at certain regular distances. Floater, vertically wafted by level of the liquid, switches through the magnetic coupling particular dry-reed relays. The closing of each relay proves the change of the loop resistance. The relation between resistance and height of level is determined. Floater is made from the polypropylene or from the stainless steel. The mass of floater is settled by the measured media consistency.
Electrical connection:

We offer SPM meter in simple version - only resistance output or with built-in electronic processing device, which communicates via serial interface RS485 or via current loop 4 - 20 mA. The resistance- output version is provided by connector IP65 or cable IP78. Electronic unit is placed in IP65 head.
Technical parameters:


Model provided by
Head
Connector
Cable
Power voltage
220V / 50Hz AC
24V / DC
24V / DC
Coverage
IP 65
IP 65
IP 78
Inputs
4 - 20mA; RS 485
resistance
resistance
Sensitivity
max. ± 3 mm
max. ± 3 mm
max. ± 3 mm
Max. enviroment temperature
+ 60° C
+ 60°C
+ 130° C
Max. media´s temperature
+ 130° C
+ 130°C
+ 130° C
Max. pressure
20 bar
20 bar
20 bar
Max. rozsah
6 000 mm
6 000 mm
6 000 mm
Documentation
Declaration of conformity
For view of documentation is necessary installation of

click on logo and download in your PC
back
© 2010 TERMOREG, firma pro automatizaci - Všechna práva vyhrazena - All rights reserved